A 12th century abbey
Welcome to a unique place under the Provence sun
A 12th century abbey , which covers 20 hectares of pine forest and garrigue, with an extraordinary panoramic view of the Salon de Provence plain … A unique place to unwind and celebrate 'Art of Living in the South of France.
In the surroundings, go hiking on the heights of the Sainte Victoire mountain, discover the creeks, stroll through the alleys of Baux de Provence, stroll in Gordes or in the Luberon Natural Park …
Secret destination that can be appreciated as you wish, during a meal, a romantic getaway, for a few days of relaxation or during long vacations.
It also hosts in its prestigious setting, all kinds of events – weddings, birthdays, photo shoots or business seminars – as the setting of the places lends itself to exceptional occasions.
Welcome to the Abbey of Sainte Croix, an incomparable place , the promise of a unique lifestyle with the sound of cicadas, under the Provence sun …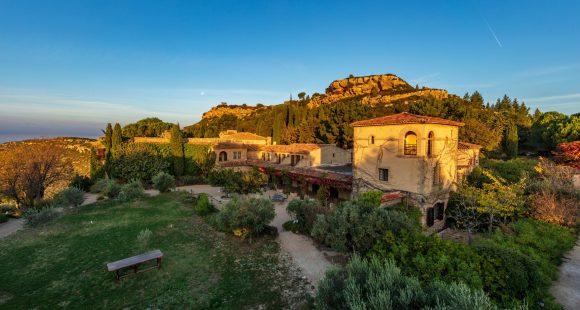 " Hello, welcome to your home! »Here in one sentence, the feeling we want to share with our hosts. With discretion, humility, simplicity, we want you to feel the Soul of this 12th century Abbey, with its "magic, mystical" side. A sense of hospitality, quality services, a smile and a good mood to appreciate this peaceful place suspended in time.
The whole team will be delighted to welcome you to provide you with a " luxury retreat ".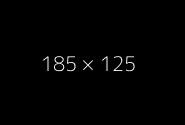 The rooms & suites
Charming rooms with breathtaking views
The house's 25 rooms and suites have retained the spirit of the Cistercian monks who once occupied the abbey and provide an atmosphere conducive to rest. Distributed in the different bodies of the Abbey, they are composed:
a large double bed or 2 single beds, flat-screen satellite TV, a minibar, a telephone, a safe, desk, air conditioning, wardrobe / closet, bathroom with bathtub, hairdryer, toilet.
They all have their own personality and a unique decoration which recalls the sober and peaceful character of the place. Each room has a different view of the valley, the terrace and its pine trees, the courtyard of the Romanesque Chapel or the gardens.
0
Rooms
including 4 suites
0
12th century chapel
for your receptions
0
wellness area
with pool and treatments
Privilege offers from L'Abbaye De Sainte-Croix
The special offers dedicated to the Abbey of Sainte Croix
Leisure and Relaxation Stay
Abbaye de Sainte Croix
Discover our Leisure offers at the Abbey of Sainte-Croix ...
Gourmet stay
Abbaye de Sainte Croix
Discover our Gourmet offer at L'Abbaye de Sainte-Croix ...
BUSINESS STAGE
Abbaye de Sainte Croix
Discover our Business offers at the Abbey of Sainte Croix ...
Quest for well-being
Abbaye de Sainte Croix
Discover our wellness offer at the Sainte-Croix Abbey ...
Gift box of the Abbey of Sainte-Croix
A wide range of gift boxes dedicated to L'Abbaye De Sainte-Croix
Gift boxes
Abbaye de Sainte Croix
Restaurant
Southern flavors on the most beautiful terrace in Provence
Chef Jean-Christophe Ugo invites you to share a moment of pleasure around gourmet and emotional cuisine.
A gourmet and exotic escape; a tasty walk unique in Provence…
Stone vaults, French ceiling, comfortable armchairs; the decoration of the restaurant invites you to live a warm and timeless moment.
In summer, take advantage of the terrace where the tables are suspended above the plain of Salon de Provence. The horizon before you gives the impression of dining one-on-one with nature …
Wellness area
For a moment of absolute relaxation …
Meet at the Abbey treatment room, an ideal place for relaxation, for a timeless moment.
We offer various treatments and massages to revitalize, energize and relax you (non-therapeutic and non-medical treatments).
In summer, enjoy a moment of relaxation in our outdoor space, facing a panoramic view of the plain of Salon de Provence.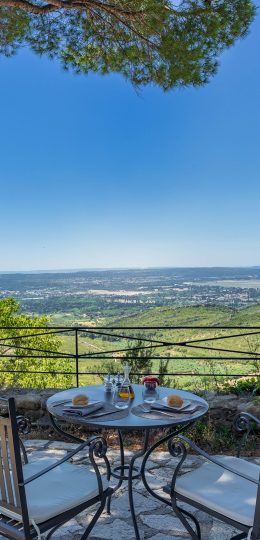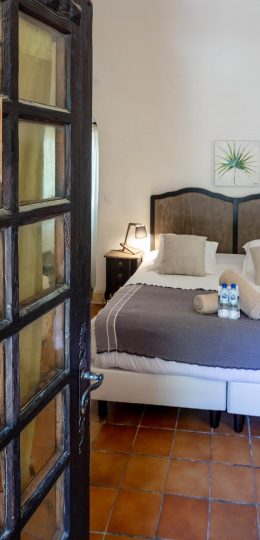 Business stage
With Garrigae, give yourself a gourmet break during your Business stopover at the Abbey of Saint-Croix …
The Abbey of Sainte-Croix welcomes you to its enclosure to spend a pleasant moment during your business stopover in Provence.
Because it is possible to combine work and pleasure, Garrigae offers you the time of your stay to succumb to one of our formulas reserved for professionals.
Tailor-made organization of your seminar at the Abbey
Professional events
It is in a unique, authentic and refined environment, ideally located between Aix en Provence, Avignon, Marseille and the Alpilles, that the Abbey of Sainte Croix opens its doors to you. for your professional event.
We are at your disposal to offer you a personalized study and meet all of your needs for the organization of your meetings, symposia, conventions or events. </ p >
SAY '' YES '' TO THE ABBEY
Your unique wedding in a magical setting
Nestled on the heights of Provence, is a peaceful place suspended in time …
Old stones loaded with stories, crossed ribs, Romanesque chapel, panoramic terraces offering a majestic view of the Pays Solonais …. a unique place for exceptional events
The Abbey of Sainte Croix is the perfect place for a unique and private event.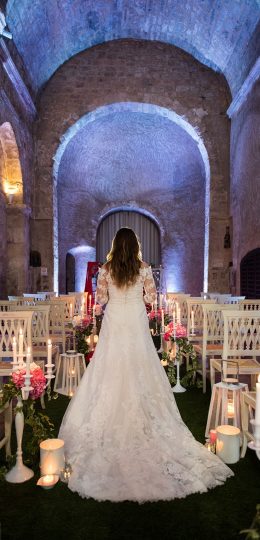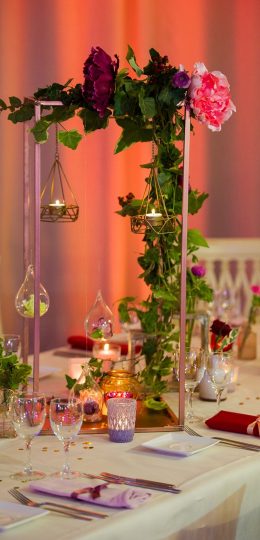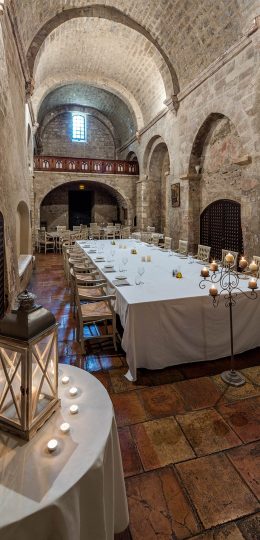 The region
Located between the Alpilles and the Luberon …
The Abbey of Sainte Croix is part of a world-renowned cultural heritage:
natural and spectacular settings such as the Calanques, the Carrière de Lumières at Les Baux de Provence …
the vestiges of a fascinating history such as Arles and its famous arenas, Avignon and the Palais des Papes, Salon de Provence with the Château de l'Empéri and all the vestiges of Nostradamus …
traditions and a terroir to share and rediscover by visiting olive groves, markets, wine cellars …
Unmissable sites and activities
Discover the Bouches du Rhône and the great Provence:
hiking or cycling
wine and olive tasting
cruises in the creeks
golf tournament at Pont Royal
guided tour of cities such as Marseille or Aix en Provence known among other things for its 100 fountains …
Departmental Committee for Tourism Tourist Office of Salon de Provence
Our Partners
We invite you to live an exceptional experience , and to fly by helicopter over Provence!
Learn more
Find our Guest Suite reviews
Garrigae Abbaye de Sainte Croix
Charming & Character Hostellerie
Route du Val de Cuech - 13296 Salon-de-Provence
Also discover at L'Abbaye De Sainte-Croix